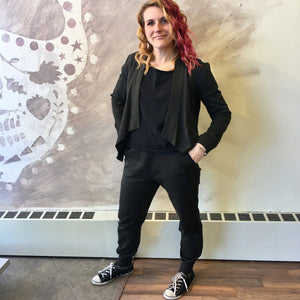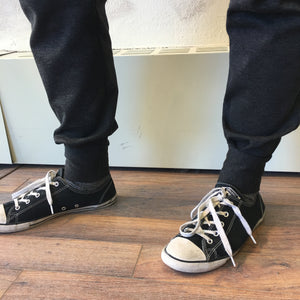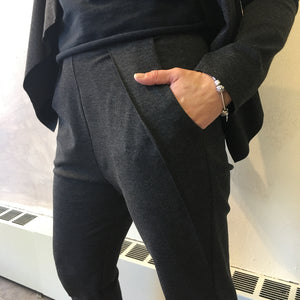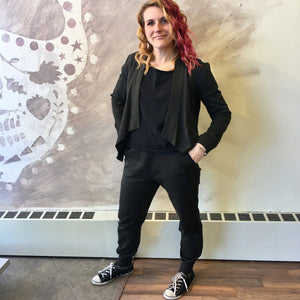 Stretchy Tucks Pant
This comfy fitted pant is high-waisted and has pleats to give them a great look and some fullness in the tummy area in case you need it. Fabric is stretchy, holds its shape, and is super comfy and low on the panty line issues scale. Elasticised waistband helps it stay exactly where it should - at your high waist!
(This piece can be made to order if out of stock, but be prepared to add 2 weeks of production time to your order. Please contact us before placing your order to confirm fabric availability.)
65% Polyester/33% Nylon/4% spandex
SIZING: We've made some improvements to fit and sizing! Please note that all sale pieces are made with original sizing. Expect these pieces to fit a little smaller than our new and improved size chart states. Stretchy knits will be more forgiving than woven pieces with no stretch.
OG Size chart:
| | | | | | | | |
| --- | --- | --- | --- | --- | --- | --- | --- |
| | | | | Size Chart (cm) | | | |
| Size | Bust | Waist | Hip | Size | Bust | Waist | Hip |
| XS | 35" | 28" | 37" | XS | 89 | 71 | 94 |
| S | 36" | 29" | 39" | S | 91.5 | 73.5 | 99 |
| M | 37" | 30 1/2" | 41" | M | 94 | 77.5 | 104 |
| L | 38" | 32 1/2" | 43" | L | 96.5 | 82.5 | 109 |
| XL | 39" | 34 1/2" | 45" | XL | 99 | 87.5 | 114 |